Have you ever seen that improv game, Questions Only, where the actors can only ask questions, and the first one who answers (with a period at the end) is out?
In my public speaking training, I would bring in an improv instructor to take my students through the same exercise. Overall, each participant made it through no more than two rounds of responding to their partner's questions before having to drop out.
Why did I have this exercise in a public speaking training? Because I had taught this point earlier in the day and I wanted to embed it in their brains:
The brain cannot abide an unanswered question. In other words, when listening to a presenter on stage, it cannot drift off to sleep, or comfortably scroll through a Facebook feed–if a question has been asked.
So, I had taught them, make sure your talks are peppered with questions!
But there was another point I wanted to drill into them—any idea what it is?
No matter how good you think you are at asking questions (if you're a coach, you have been taught the skill, however…), you are not good enough. Far more than you will ever realize, you put "periods" at the ends of sentences that deserve question marks.
If you teach anyone, ever, at any time—or want to elicit wisdom or bring the best answers into the room–from your children, your best friend, your clients needless to say, your prospects, anyone….(Do you know what I'm going to say?)
…failing to ask questions is to fail to achieve those outcomes.
Of course, Socrates understood this. The Greek philosopher invented the teaching practice of "pedagogy," known as the Socratic Method, a dialogue between teacher and learner, where the teacher asks continually probing questions in a concerted effort to explore the underlying beliefs that shape the learner's views and opinions.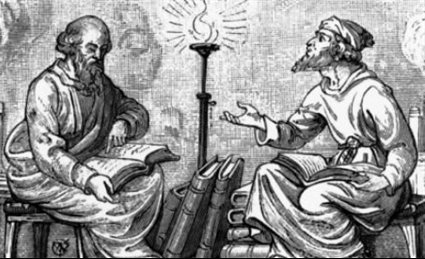 The reason that questioning is so vital to getting the best answer in the room is that too often the answers being brought into the room are superficial. The Socratic Method naturally promotes critical thinking—the lynchpin of powerful solutions.
Political Science professor, Rob Reich, a recipient of the Walter J. Gores Award for Teaching Excellence in 2001, describes four essential components of the Socratic method this way:
Socratic inquiry is not "teaching," as we know it. The students are not passive recipients of knowledge.
The Socratic Method involves a shared dialogue between teacher and students. The teacher leads by posing thought-provoking questions. Students actively engage by asking questions of their own. The discussion goes back and forth.
The aim of the questioning is to probe the underlying beliefs upon which each participant's statements, arguments and assumptions are built (so as to ensure the soundest reasoning.)
The Socratic leader does not have all the answers and is not merely "testing" the learner.
The focus is not on the participants' statements but on the value system that underpins their beliefs, actions, and decisions. For this reason, any successful challenge to this system comes with high stakes—one might have to examine and change one's life, but, Socrates is famous for saying, "the unexamined life is not worth living."
So, how is this relevant to you?
Well, how about using systematic, probing questioning whenever an answer is needed? And only when the best answer is needed?
If you're a consultant—how about asking yourself, "Am I "telling" too much when "asking" should be the style of communication?"
If you're a coach, trained in questioning–ask yourself, "Do I ever ask my clients 'leading' questions that yield an answer I think they should have?"
As a business leader, are you asking what your team knows–or asserting what you know?
If you are a parent, and your child comes to you, as mine did a few weeks ago with, "What should I do??" – can you bite down hard on your tongue, sit on your hands and reply with, "What are you considering doing?" Then, "How well do think that will work?" Then, "How will you feel if you do that rather than the other option?"
No answers but his/hers!
I challenge you to play the improv game this week: imagine each question is the "bird" in badminton that must be kept volleying in the air. One "statement" from you (other than "good job" at the end) abruptly ends the game of "Best Answer In the Room."
(Warning: Teenagers detest this!!! But don't let that deter you!)
This is such an ingrained part of my communication style, I go fairly mad when others can't do it with me. The other day, I came up with an inventive solution. I was in a particularly difficult mental logjam and, knowing that my guy cannot for the life of him think in questions and therefore cannot ask them (despite 13 years of my trying to teach him)…
…I wrote out a series of 16 questions for him to ask me. I knew the best answer in the room could only be elicited through a series of stacking questions, and if he wasn't equipped to conjure them, I was. He delivered them and it worked like a charm! My thinking was clarified and my decision became obvious.
According to my oldest brother, I was an interviewer at a very young age; always profoundly curiosity about others. But then, somewhere along the way, the courtroom attorney in me woke up, and the probing questioner arrived on the scene—the part of me that spots a superficial answer and knows a better one can be found.
Everyone close to me has encountered the attorney-at-law in me—or, perhaps a kinder, gentler image to evoke would be Columbo—and it is often met with resistance. I find that most people get triggered when asked to stretch their assumptions. But like Socrates, I am absolutely, positively committed to the best answer, no matter how frustrating it is for those who hit walls in attaining it.
Alanis Morisette told Oprah recently, "I like to get to the bottom where there is no lie left." Yes. Yes. I think she channels Socrates, too.
My clients experience this level of probing inquiry from me when developing their thought leader brand and message. I puncture that surface and, at times, they wail in frustration at the wall of blankness they encounter at some points in the process. But we just keep at it, and all of them rejoice in the epiphanies that arise–that wouldn't have if not for the really hard questions.
Inquiry of this depth may trigger your "I'm dumb" story (this is what I encounter most), but in keeping with it, it will activate the "I am so damn wise!" story. Isn't that worth it?
And isn't it worth giving that experience to those around you—particularly those who pay you??
So, here are a few questions:
What is your number one take-away today?
What is the first question you are going to ask once you're done reading this—and to whom?
And when are you going to employ the improv game: "nothing but questions" for an entire conversation?
Can you imagine what would be possible for your work if you were asked nothing but one deepening question after another?
Do you really think that you can imagine it? Or do you just need to experience it?
Coming next week: An exciting new program from me…for thought leaders and aspiring thought leaders…if you are determined to get the very best answer in the room for your business and your legacy.
Stay tuned!!
Remember: the brain cannot abide an unanswered question. What's your next one?